Assortment - Special superstructures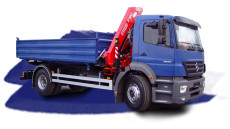 Special superstructures are made according to client's specific needs. They involve superstructures made as a mobile workshop, superstructures used to transport vehicles (vehicle recovery service), superstructures used to transport animals or hanged meat, various superstructures for transporting drinks, explosives, (ADR) items and many other objects.
All-Aluminium Folding Superstructure
An advantage of the all-aluminium folding superstructure is the low mass of the whole structure, a stable compact structure made from a welded aluminium plateau with folding columns, central opening of side boards and a front protective frame with loading capacity up to 1.5 t. The superstructure is electrically-hydraulically powered by batteries.
Superstructure Used to Transport Vehicles
A special superstructure used to transport and recovery vehicles can be made either as a solid platform, tilting platform, folding platform or as a drive-down or a double-deck recovery truck. It is made from solid steel section bars, zinc-coated or varnished in a colour desired by the client, or from aluminium section bars. The floor of the superstructure can be made from perforated, anti-slippery steel sheets or from all-aluminium sheets. The superstructure can be equipped also with other accessories, such as electrical or hydraulic winders, towing bars, alarm beacons, tool boxes etc.
Mobile Workshop
A mobile workshop is intended for locksmith works. This box superstructure can include workshop equipment (workbench, boxes, box under the ceiling, racks with drawers, gripper, table grinder, table drill, welding aggregate, electrical centre etc.), ventilation (sliding windows, ceiling ventilation), independent oil firing, box for gas bottles, handling device for gas bottles and other accessories ensuring reasonable comfort, hygiene, safety and protection of health at work (seats, first aid box, fire extinguisher, hangers, extension cables etc.).
Superstructures for Aircraft Supplies
This type of superstructures is intended to supply and load goods into aircrafts. This is a standard light box superstructure or a refrigerated superstructure and its lifting part is fully electronic with an automatic control system.
Superstructure Used to Transport Drinks
This superstructure has one side or both sides with horizontal compartments so every side of the superstructure is accessible for loading or unloading. Side parts are made from segmented aluminium bars, the bottom bar can be folded down to the ground and the upper bar can be folded up to the roof. In order to achieve as much variability as possible, the superstructure can be equipped also with a rear double-wing door.
Superstructure Used to Transport Live Animals – One-Day Poultry
A box superstructure made from sandwich panels is intended for safe transportation of one-day poultry transported in special transport boxes inserted into transport racks. This is a special superstructure with an air-conditioning device, in which it is necessary to ensure sufficient air circulation using a system of ceiling and floor channels. The temperature in the superstructure must be even, so the system ensures heating cooling and moisturising of the air inside the superstructure.
Superstructure Used to Transport Live Animals
This superstructure complies with all the requirements set for transportation of live animals for various purposes on one, two or three decks. The superstructure is based on a solid steel structure with wooden transpiring fillings made according to strict international regulations. Side walls can be covered by a sheet from the inner side. Depending on the purpose of application (type of animals transported), specific designs differ in layout of the indoor area (transport of bigger animals or small poultry), superstructure ventilation, usage of a lifting face etc.
Superstructure Used to Transport Explosives and 1 ADR Items
These superstructures are intended for transport of dangerous substances, technical gases, explosives and other materials requiring a special permit. The superstructure is based on a welded steel structure with a fireproof coating. The external casing is made from a steel zinc-coated sheet, inner casing is fireproof. The superstructure is made in accordance with applicable legislation covering transportation of such substances. Superstructures can include also lifting platforms, heating and other accessories in accordance with requirements of applicable legislation.
Ready-made solutions: